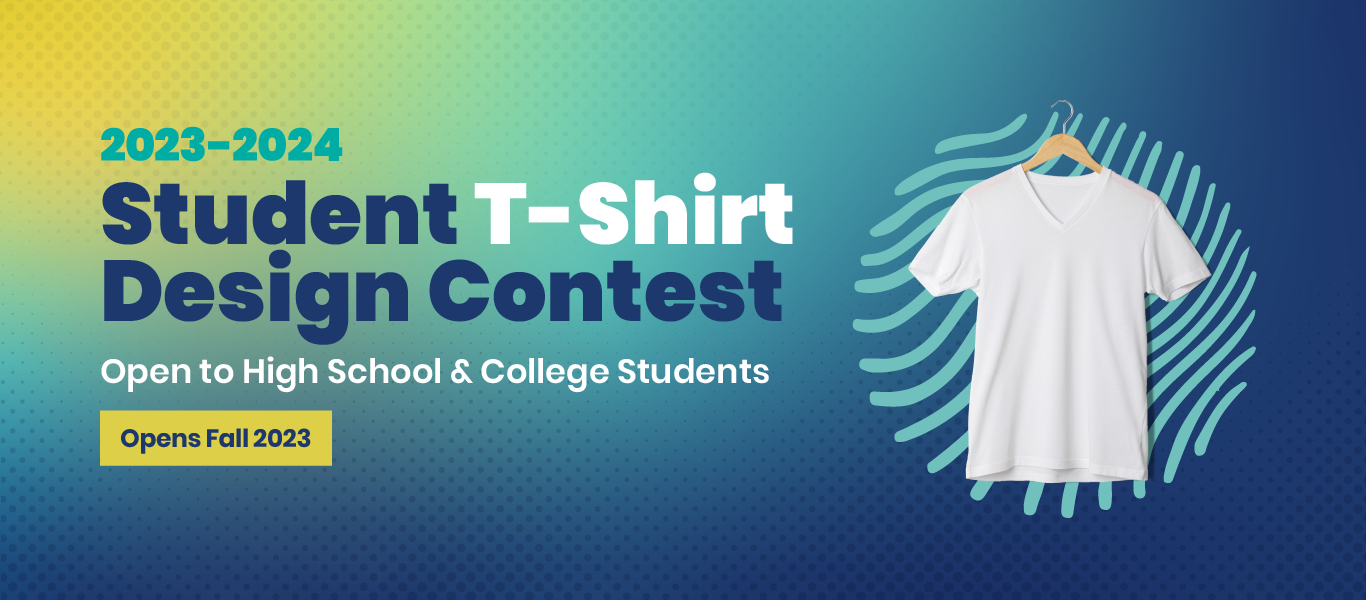 2024 T-Shirt Design Contest
Submissions Open Fall 2023
Once again, PGSF is asking students to help us promote our scholarship program by designing a T-Shirt.
PGSF awarded over 150 college-level scholarships to students ranging in value from $2,000 to $10,000 for this year and the winning T-Shirt design, along with the poster designs, helps promote our scholarship program through the year.

The winner of the T-Shirt contest will receive a $500 check, an award certificate, and will be honored in a national news release, on the PGSF website, and on social media platforms.
New to the 2024 Design Contests:
There are two new rules that have been added to the contest this year:
1. The T-shirt and Poster Contests will have two divisions: one for high school students and one for post-secondary students.
2. We added a design theme to our contests this year to promote Graphic Communications as a program of study and career. Design your T-Shirt using one of these themes:
Print is Provocative

Print is Spicy

Print is Fire
Educators: Please encourage students in your school to enter the PGSF T-Shirt Competition. The competition is open to all students enrolled in primary, secondary schools, and post-secondary colleges and universities, trade, or apprenticeship programs.
If you have any questions or need assistance, please email contact@pgsf.org or Dianne Bullas – dianne.bullas@pgsf.org or call  503-572-6610.
Instructions & Specifications
Rules and Submission Instructions
Submissions Open Oct 1st
Submit entries as a PDF

Files should be named as follows:

HIGH SCHOOL STUDENT: Firstname_lastname_schoolname_2024 High School
POST SECONDARY STUDENT: Firstname_lastname_schoolname_2024 Post Secondary

The winner of the contest must submit all files required for reproduction. Files become the property of PGSF.

The department in which the student is enrolled will receive a plaque for display. If you have any questions, please email 

dianne.bullas@pgsf.org

 or call 

503-572-6610

.

Entries are due by Friday, April 26th 2024.

Judging will be in May and the winner will be notified by May 31st!
Submit Your Design
Design entries must include the following:
Prominently display Print and Graphics Scholarship Foundation name and logo as part of your design.

Designs must include a message that relates to one of the themes:


Print is Provocative

Print is Spicy

Print is Fire

Bright and highly visible colors are great!

Final artwork:

Files should be high-res jpg, png, tif or psd (front side only)

Maximum / optimal area to fill for printing on t-shirt is 13×18" max
Download PGSF Logos Here
Announcing our 2023 T-shirt Design Winner
PGSF received over 90 t-shirt design entries this year. "I have known that I wanted to be a graphic designer since the 5th grade, so it is truly an honor to receive this award based on my work. I cannot wait to receive a higher education in my dream career field, and I greatly appreciate all the work the Print and Graphics Scholarship Foundation does to make dreams like mine become a reality." said Emma Goggans, winner of the T-Shirt Contest. Emma attends Northeast Alabama Community College.
Please join us in congratulating Emma!
Read More